Reliatex Inc.® was incorporated in Florida in 1950, and since that time we have supplied the upholstered products trade with vinyl, fabric, foam, and upholstery supplies. Three branches operate in Florida with more than 120,000 square feet of warehouse and foam fabrication space allowing us to ship to customers worldwide.
Our diverse product lines and extensive experience in the automotive & RV, aviation, furniture for office and residential applications, healthcare, hotels & lodging, marine and restaurant trades have kept us in the forefront of new innovations in the cushioning field.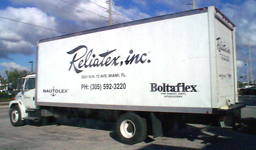 The lines of marine upholstery products we offer have become a mainstay for original equipment manufacturers of marine craft (OEMs) and the marine aftermarket. Our wide range of marine products include exterior boat seating upholstery, interior cabin fabrics, flooring and acrylic boat topping. Since our founding, we have been known for its proven performance and innovative colors, textures and designs. The marine lines of UV and QUV-resistant and mildew resistant vinyl and polyurethane-coated fabrics we provide are formulated to offer long term performance against exposure to the sun and weather.
For designers, project managers and architects, we offer a comprehensive range of contract coated fabric materials. Today, office, healthcare, hospitality and education seating manufacturers, interior designers alike trust our upholstery performance products for beauty, comfort, and reliability. Providing lines of contract materials that respect the environment is important to us. We strive to match our specific customers' needs with the appropriate sustainable or environmentally-friendly products.
We currently sell and manufacture 137 types of polyester urethane, polyether urethane, PVC, ethafoam, evalite, neophrene, latex, viscoelastomer, reticulated, and cross-linked polymer foams not available from any one source.
We have been instrumental in the development of new products for the foam industry, such as High Resiliency Antimicrobial foams that provide years of service, and economy foams that reduce weight and cost.
At Reliatex, we are not limited to just the upholstery cover and foam cushioning portions of upholstery; we have the additional resources of adhesives, thread, upholstery fasteners and application experience to aid our customers in achieving their goals.
We welcome the opportunity to add you to our list of customers who continually experience our exceptional service and long-term reliability from the quality products we have supplied to the upholstery industry for over 67 years.